I stumped up my £5.99 a couple of weeks ago to get what Virgin call a 'super hub'to take advantage of the local upgrade to 50 Mbps download speed. 
The delivery (wait in from 8 a.m. till it arrives , may be as late as 9 p.m.) went OK, but the installation was anything but. I was on the phone for ages changing almost every setting on the new box simply in order to get it to work at all. And then using wi-fi  I was getting speeds just about the same as I was 12 months ago.
However, the button below shows the result of a thinkbroadband test today, running at over 50Mbps download and nearly 3Mbps upload, which is pretty damn good.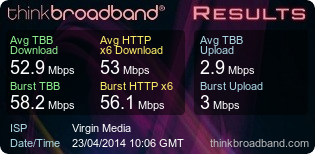 >