Dear Adrian,



Over the last few weeks, it has become clear to us and other campaigners, that there are some urgent issues linked to active travel and the current crisis which need our support. We have been in contact with Haringey Council over the last month to raise these concerns, and also to offer our support for their Covid-19 response. We were encouraged to hear from the council that they share many of our views over street space and hope that we can work with them over the coming months to respond on the urgent issues outlined below.
Pavement Expansion

Social distancing has demonstrated how limited much of our pavement space is. Residents across Haringey have been sharing the need for urgent pavement expansion to enable safe distancing on pavements. We are encouraged to learn that this is something Haringey has started to do outside some shops across the borough. More information on this from the council is

 

available here.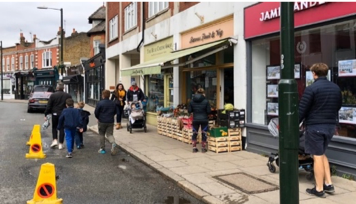 https://mcusercontent.com/4ffef1818c3f051137902ac5d/images/6166fa1c..." width="356" class="CToWUd a6T"/>
Figure 1 Pavement expansion in Barnes, April 2020

We would like to see this approach expanded not just to outside retail space, but any places where social distancing on pavements is difficult. This would include reviewing pavement parking, and also the use of filters for motor traffic like the street pictured in Whitecross. We put out a request for ideas from members on social media, and have now submitted over 30 suggestions we received on possible improvements to Haringey Council.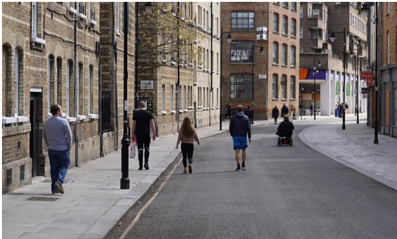 https://mcusercontent.com/4ffef1818c3f051137902ac5d/images/6605a8be..." width="397" class="CToWUd a6T"/>
Figure 2 Bunhill, WhiteCross, through traffic is filtered



If you have any suggestions for where additional pavement space is needed for safe social distancing please share them with Haringey Council via this email address 

parkingschemes@haringey.gov.uk

.
Covid-19 Emergency Transport Plans

As many of you may have noticed, the drop-in motor traffic during lockdown has resulted in some benefit. We've seen residents of all ages out cycling on our streets, and families walking in peace without the danger of fast-moving traffic in communities. When the lockdown ends, we don't want to see an end to this.

However,

 

some estimates for London suggest that once lockdown eases public transport could be running at a fifth of the pre-crisis levels to enable social distancing. That means up to 8 million journeys a day will need to be made by other means. If people switch only a fraction of these journeys to cars, our streets will grind to a halt.

We have asked Haringey Council to urgently consider how we can put in place emergency measures to enable safe walking and cycling routes across the borough. Especially for those who don't have any access to cars – and may have very limited transport options over the coming months.

On Friday the Mayor of London announced a radical solution – the

 

Street Space plan

 

which will fast track the transformation of London's streets to enable millions more people to safely walk and cycle as part of their daily journeys. This is an extraordinary moment, in terms of the possible transformation of street space.

 

Sadiq shared

 

'Londoners will rightly demand neighbourhoods that permanently work for walking and cycling'. At the same time

 

Boris Johnson also called on regional leaders to encourage people to commute on foot or bike to avoid a dramatic increase in car use. Globally, there has been a inspirational movement across cities to look at how active travel can be enabled during this time – Milan from example has announced that 35km of streets will be transformed for cycling (a summary of actions across the world is

 

available here)

We understand that dialogue is happening between TFL, the GLA and Haringey for accessing additional funding and assistance to put in temporary measures. We will be compiling suggestions to put forward to Haringey Council in light of this planning.


https://mcusercontent.com/4ffef1818c3f051137902ac5d/images/17621a46..." width="331" class="CToWUd a6T"/>
Figure 3 A temporary road closure in St Ann's Haringey, 2019, enabling children to cycle safely



We need your help and suggestions:
If you would like to write to your councillors on more space for walking and cycling a template from Living Streets is 

available here.

Please also feel free to share ideas with us or attend our next meeting (details at end of newsletter)
Cleaner Air

You may have seen

 

news reports

 

about the significant drops in air pollution across the UK and beyond during the lockdown. A

 

YouGov poll

 

has highlighted that 51% of respondents say they have noticed cleaner air during the lockdown . At the same time we have received very

 

concerning reports

 

that air pollution may be a key contributor to Covid-19 deaths. If this is the case, it is vital that part of our Covid-19 response also ensures we build back cleaner air for all residents after lockdown.

A shift to more car use after the lockdown eases will reverse any benefits we have experienced over the last few months. At a time when clean air for vulnerable lungs is absolutely critical, the idea of air pollution in our borough getting worse as the lockdown eases is not acceptable. Active travel infrastructure, School Streets programmes, low traffic neighbourhoods, continued parking restrictions, and the eventual expansion of the ULEZ will all need our support in future if we are to secure clean air for our community.



Please do also considering emailing your local councillors and let them know that after lockdown we want life to return to our streets, but not the pollution.
Challenging Speeding
An unfortunate outcome of lower traffic rates during the Coronavirus is an increase in drivers speeding. This poses an increased threat to residents on foot and bike, with collisions more likely to be serious, putting an even greater burden on an already stretched health system. We support the NHS doctors who are calling for an

 

emergency 20mph speed limit.
In the long run we think this makes the case even more clearly for low traffic neighbourhoods, and the use of modal filters like the one pictured near seven sisters to stop speeding and enable the street to be used by the community.
Other News
Wider Campaigning: At our last meeting we discussed possible campaign focuses for 2020. At present, we would suggest these ideas are put on hold while we respond to the Covid-19 crisis.
National Walking Month: May marks the start of National Walking Month – more information on Living Streets #Try20 campaign is

 

available here.
Blogs: London Living Streets have been leading the way - Rethinking our streets - urgent policy responses to Covid-19 - Lond... 
Useful Webinars: -

Webinar on boosting and protecting walking and cycling post lockdown with Dr Rachel Aldred and the London Cycling Campaign

 

here
Mum's for Lungs have been running an excellent series of webinars linked to air pollution and the need for healthy streets. Follow them on Twitter or Facebook for the latest events.

 

http://www.mumsforlungs.org/

Videos: •

 

A nice new video

 

from Living Streets member Fran in Brighton - one the first places in the UK to close off their road to cars to aid social/physical distancing. Note the shift to talking about

 

*physical* distancing

 

because we all need social interaction.
Next Meeting:

We're planning to hold a remote group meeting over the next fortnight to discuss what our transport plans might look like. The meeting will be held virtually. If you'd like to join please

 

complete this Doodle calendar.
As always please share our newsletter signup link (here) with friends and neighbours who might be interested. 

You can also connect with our community on our Facebook and Twitter pages.

Best wishes,

Cat & Tom (Co-Chairs Haringey Living Streets)